Welcoming international delegations to the Eurasanté Park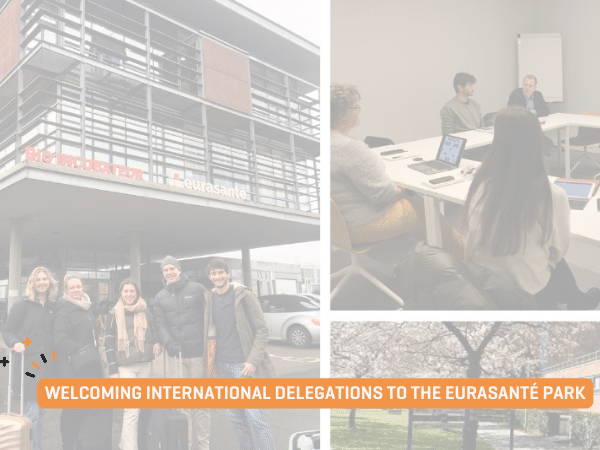 Throughout the year, Eurasanté regularly welcomes international delegations with the aim of introducing them to the regional health sector through meetings with various people at the Eurasanté Park.
Here are the international delegations that we have welcomed since the beginning of 2023:
December 2022
March 2023
April 2023
May 2023
December 2022
The Eurasanté Park welcomed a Japanese delegation with representatives of the Hyogo region and experts from Japan (notably JETRO: Japanese para-governmental foreign trade organisation) and DS Avocat, a specialist in business rights in Japan.
The delegation was coordinated by the CCI and the objective was to present the Hyogo region and its assets to companies from the Hauts-de-France region interested in the Japanese market.
The delegation also wanted to visit the Eurasanté Park. It was an opportunity to discover how Eurasanté works and the support we offer to regional and international companies wishing to set up in the Hauts-de-France region.
The Kobe Biomedical Innovation Cluster (KBIC) is located in the Hyogo region: the largest biocluster in Japan! The KBIC representatives were able to discuss with Eurasanté in order to study the possibilities of collaboration between Eurasanté and the KBIC.
March 2023
April 2023
May 2023
Through the reception of these delegations, Eurasanté seeks to promote the park's research laboratories and companies.
Are you interested in organising visits and exchanges with foreign companies, students, political delegations, etc.?