The european project SMART AGR'Hauts-de-France produces a mapping of the digital technology providers and experts in the region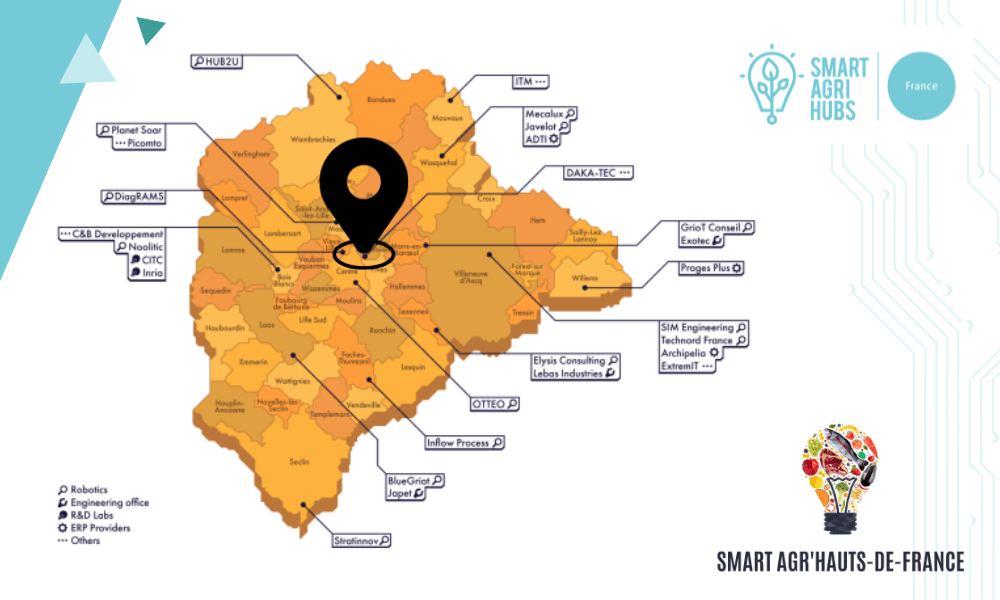 Supported by the Call for Proposals "Service" of the European Smart Agri Hubs program, the main goal of Smart Agr'Hauts-de-France is to develop new services to raise awareness and support the Hauts-de-France agri-food and food tech companies in their digital transition and their uptake of digital technologies.
The specific objectives are the following:
> To develop new digitalisation support services for agri-food companies in order to improve the Digital Innovation Hubs (DIH) current service offer.
> To foster networking and collaborations between agri-food companies and technology providers and experts.
> To support the digital awareness and digitalisation of the Hauts-de-France regional agri-food companies.
The maps bring together all the digital players in the region who can provide concrete solutions to agri-food companies, classified according to the 5 following categories:
> Robotics, grouping together the actors of the region producing products focused on the well-being of employees in industry and on the automation of industrial processes and supply chain;
> Engineering office, grouping together solution providers and digital consulting firms offering support and realisations around specific projects for the food industry.
> The ERP suppliers, essential software for the management of flows in the field of industry and the supply chain.
> R&D Laboratories offering solutions in the agri-food sector.
Realised by CITC Eurarfid, Digital Food Lab, Eurasanté, Clubster NSL et Euralimentaire.
This project is funded by the European Union.