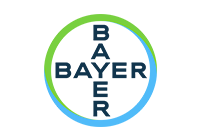 Bayer Pharmaceuticals located in Loos is one of the three divisions of Bayer Group in France. Bayer's pharmaceutical activities include: General Medicine (cardiology, women's health), Specialised Medicine (haemophilia, oncology), Ophthalmology, and Radiology. Bayer Pharmaceuticals is one of
the top ten pharmaceutical laboratories in the world.
Bayer's products help address the increasing challenges of a growing ageing population and the resulting demand for innovative medicines. Through innovative products, Bayer seeks to achieve therapeutic benefits for patients, while at the same time satisfying the increasing requirements of
physicians and health insurers.
Bayer devotes a large part of its sales (17.5%) to Research and Development in Pharmaceuticals, especially in the following therapeutic areas: oncology, cardiology, gynaecology, and ophthalmology.
Bayer is a research-driven company which growth is based in its established business lines through investment in research and development as well as through acquisitions and partnerships with
external academia and industry partners.
Jost Reinhard,
General Director Bayer HealthCare SAS & Head of Pharmaceuticals
ONTEX is an international leader in the manufacture of personal hygiene solutions for babies,
women, and adults.
'The decision to build our new factory in Wasquehal was an easy choice given the numerous access advantages both for logistics and proximity to our customers in France, Belgium, and the United Kingdom. Thanks to the Regional Council, works progressed quickly and complied with our deadlines.
One of the main keys to our development lies in our employees who have vital expertise and who are a valuable resource.'
Xavier Lambrecht,
General Manager Healthcare Division Ontex

In 2014 AMPHASTAR acquired the Dutch company DIOSYNTH, established in the Netherlands in
1930, based in the Oise region in France. The company specialises in the development of insulin derivatives.
'The unique expertise that exists in the Oise region is supplemented by an excellent network of outstanding universities and colleges. There is also a science culture due to, in particular, the Technical University of Compiègne (UTC), which fosters the development of highly qualified employees. The location is also ideal as it is in the very centre of Europe and close to the Paris Charles de Gaulle airport which is a real plus for our US-based parent company. There are also numerous tax benefits for companies in France. For example, the strategic decision to build our manufacturing facility in France makes us eligible for the industry investment tax credit, which will ultimately enable us to employ an additional forty people.'
Franck VITALI,
Senior Plant Manager